Annual CPD conference held.
The annual Continuous Professional Development conference, where ELS Educational Therapists not only get updated on the latest thinking in Education and Educational Therapy but also exchange experiences and share information, was held in Cape Town on 27 October (a smaller CPD event was held in London on 19 October). Educational Psychologist Sylvia Clutten presented an insightful presentation on the role of the emotional brain in learning.
Successful training in Cape Town
Two new ELS Educational Therapists were trained in early October 2018. Kirsty van Huyssteen will be working in the Atlantic Seaboard / Cape Town City bowl area. Monique Smith is based at Rainbow Montessori in Durbanville. Here they are with ELS Director Dr Lyn Thijsse!
A moment in ELS history
Blaauwberg Rise Therapy and learning Centre has recently been registered with the Western Cape Education Department as a specialised school for ASD and other learning disabilities. From 2018, learners from Grades R to 3 (foundation phase) will be enrolled.
New ELS locations:
After the training held on 3-7 April, we are exited to soon be able to offer ELS Educational Therapy in the Cape Town Southern Suburbs and in the United Arab Emirates, our new international location!
Details of the new therapists appear on the website, but here is a picture of them (accompanied by the ELS programme director Lyn Thijsse and 'ELS Admin')
Cape Town Workshop
A stimulating workshop for ELS therapists was held in Cape Town on 25 March. Topics were language, literacy and comprehension and how ELS addresses these important educational aspects.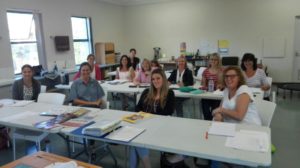 Two new therapists in London!
After the latest London training, we are excited to welcome two new Educational Therapists from The Gower School!